UVify Draco | Ready To Fly HD Racing Drone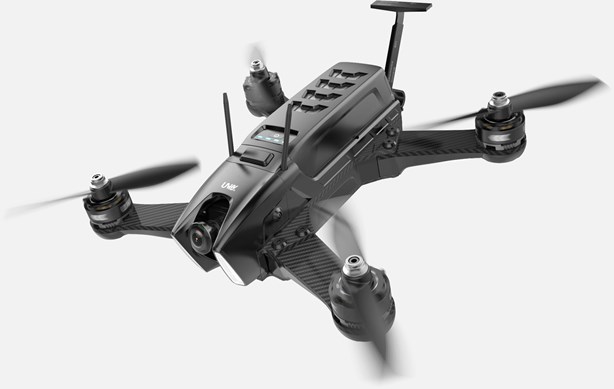 Building a racing drone is no easy task. It requires electronic skills, time to figure out the right components and some soldering along the way. If you are cut for it, great! You should stay in that lane. But, if want a racing drone that just works out of the box, there is a new offer in the market from the San Francisco headquartered company UVify.
UVify employs rocket scientists, roboticists, engineers, gamers, content developers, and professional drone racers all with the goal of creating the best drones for non-commercial flying. We think they have a hit on their hands with their new racing drone.
Modular Racing Drone
A racing drone is not like your regular DJI Phantom or Mavic. These are designed to be easy to fly. Let go of the controls and the drone will hover. Racing drones on the other hand, are agile and made to go fast.
The Draco is a racing drone capable of reaching speeds of 70mph and up to 100 mph in a straight line. It is truly ready to fly out of the box. Unpack, plug in the batteries and you are off racing. It has a modular design, meaning if a piece breaks you can purchase prefabricated parts and clip a new one back in. No need to worry about wires or soldering.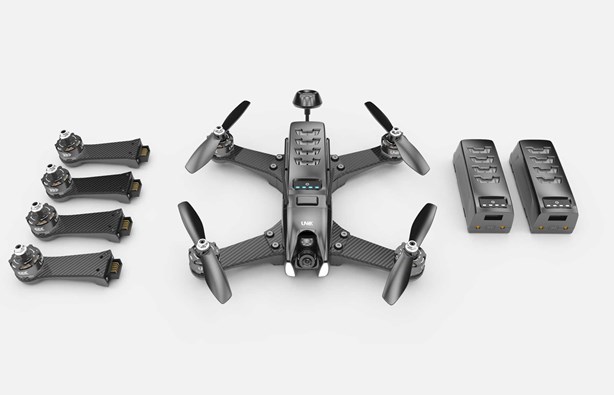 HD Video
The Draco comes in two versions, Draco (analog video feed) and Draco HD. The Draco HD provides a digital 5.8GHz digital video transmission system feed to make your FPV experience truly great. Having a crystal clear image going 70mph is simply amazing.
You haven't truly experienced FPV flying until you have put your hands, and eyes, on a racing drone with a HD feed. The HD version of the Draco is currently on sale for $799 saving you $100 of the regular $899 price. while the regular Draco will set you back $699. Remember, this is a modular designed Drone. You could purchase the Draco and simply purchase the HD parts to upgrade further down the line.
Battery System
Powering this UAV is done through UVify's rapid-swap battery system. These batteries have a computer built in that measures mission critical information, including voltage, current, mAH, and battery life. The downside, as is the case with all racing drones is the battery life. Each battery will give you a flying time of around 7-10 minutes and take an hour to fully charge each battery.