Bebop 2 Power | Lightweight, Smart, Long flight time
French drone manufacturer Parrot is slamming the gas pedal with the hopes of overtaking DJI. Last spring, DJI released its successful Spark drone model. Parrot hopes to have an answer with its new Bebop 2 Power drone and with the many reviews, we think this one is a hit.
Flight Time and Flight Mode
The Bebop 2 is the most advanced of Parrot's consumer drones. It's the first drone of its class to have a flight time of more than 20 minutes allowing to fly for 25-30 minutes with a single charge. In contrast, DJI Spark's flight time is a mere 16 minutes.
This drone also makes flying much easier. It will recognize if it's in your hand or on the ground. When on your hand, the rotors spin slowly. Throw the Bebop 2 into the air and it will speed up and stabilize the drone.
Use the different piloting modes to change the way the Bebop 2 responds. The sport mode is used for high speed and agility. For video or photos use the Video Mode, this makes the drone fligh smoothly and steadily.
Want your Bebop 2 to fly to a location on your map. Tap the map's location and your drone will automatically fly to it while keeping its altitude.
This drone reaches a max speed of 37.28 mph horizontally and 13.05 mph vertically, Parrot claims it will fly at top speed without affecting the image quality. It reaches its max speed in 14 seconds and resists headwinds of up to 37.28 mph. Need to stop quickly? This drone takes 4 seconds to stop from its top speed.
Ready for immersion action? Put on your parrot Cockpit Glasses 2 and experience FPV flight.
Durable
The Bebop 2 is small and easy to carry around, weighing only 1.15 pounds with dimensions of 200x180x110mm.
It's structure is a blend of carbon fiber and Grilamid which will make it to be durable. Grilamid is a lightweight plastic used in the automotive industry known to be extremely resistant.
Sky Controller
The Bebop 2 power drone can be flown with just your cell phone to take that quick selfie or fly in very close range. You get a maximum range of 800 feet before you lose signal. Armed with the Sky Controller 2, the range increases to 2000 meters (2 km). The return home functionality allows this UAV to fly back safely to its take-off point if the signal is lost or on demand.
Photo and Video
The Bebop 2 comes with a custom made wide angle less camera and an advanced anti-distortion system for high quality aerial shots. It's equipped with 14-megapixel CMOS that will allow you to shoot full HD at 30 FPS. The photos can be saved in two photo formats: JPEG and Adobe DNG RAW. Parrot's patented 3 axis digital stabilization technology helps provide sharp crisp images by reducing vibration and aliasing.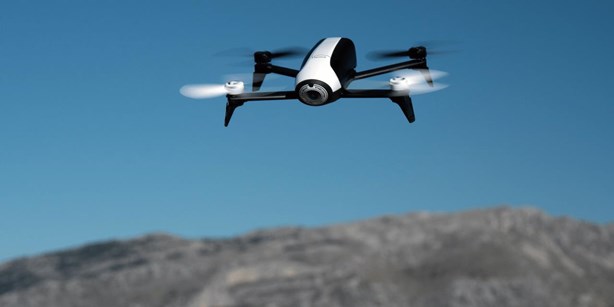 A.I Capabilities
This drone is equipped with advanced A.I capabilities, making it easier for you to take high quality pictures or videos, Parrot calls them Smart Flights.
Follow Me: Taking advantage of visual recognition technologies, GPS tracking data and your smartphone's barometer, this function keeps you in the frame while the drone flies automatically. Take your best action shots of yourself why you are running, bicycling, rowing, climbing and anything elese you can imagine. The Parrot Bebop 2 Power pack is required for this function.
Cameraman: You control the movement of the drone while the Bebop 2 keeps the camera aimed at your subject.
Magic Dronies: four types of automated, aerial selfies are available free of charge in the FreeFlight PRO application.
Orbit: The drone goes around you in horizontal rotation while keeping you in the center of the image
Tornado: Rises and gradually comes back down in a spiral while keeping you within the frame
Parabola: Flies above you, forming a semicircle, starting in front of you and finishing behind you
Boomerang: Goes out and comes back, up to about twenty meters, keeping you face-on, in the center of the image
Auto shots: four pre-programmed flying movements to capture landscape views.
360: The drone turns in a 360° circle and captures the entire surrounding landscape
Reveal: Advances filming the ground and gradually lifts up the camera angle to reveal the landscape on the horizon.
Epic: Gradually moves away over 60 m to put the landscape into perspective
Rise: Goes up, with the camera facing the ground, and gradually turns its view towards the horizon ending with a panorama revealing the surroundings.