DJI Matrice M200 Drone is built for Rain, Shine or Snow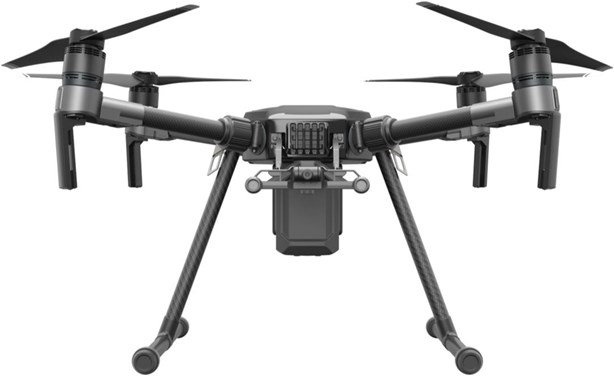 Designed with commercial and industrial applications in mind, DJI unveiled its latest drone line, the Matrice 200, at the Mobile World Congress in Barcelona. With the motto, built to endure, this drone line is said to withstand strong winds, rain and even snow! Its new dual-battery power system automatically heats the batteries when flying in sub-zero temperatures. Water is kept out by its enclosed design to provide flight capabilities in a wide range of environments.
The series is comprised of 3 individual models, the baseline M200, M210 and the top of the line M210RTK. The base M200 model includes an FPV Camera, Dual battery system and flight autonomy. The M210 additionally includes universal ports and multiple payload configurations. While the top of the line, includes additionally two RTK (Real Time Kinematics) modules which according to DJOI provide millimeter-precision navigation.
Notably, the higher end models (M210 and M200) for this drone series has an upward facing gimbal mount which makes it ideal for commercial applications such as bridge, towers and other structure inspections which have locations of difficult access. You can you can also mount double downward gimbals, upward gimbals and third party sensors. The base version provides the capability of a single downward gimbal only.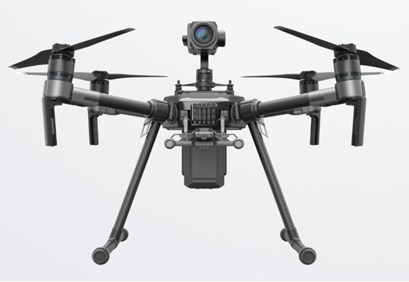 As you can expect with a drone of this caliber, several features are included such as the ability to lock cameras onto a point while the drone moves around, you can circle around an object on a smooth orbit and others such as automatically following a person or object.
The operating range for is 7 KM with a maximum flight time of 38 minutes; this is without any payload attached. Their IP43 ingress protection provides the capability to operate in light rainfall and light snowfall. The higher end models have multiple payload configurations providing a maximum payload capacity of 2kg.
Built for pro level aerial imaging, they also provide the capability of utilizing a wide array of camera accessories such as DJI's X4S and X5S and the Z30 camera which provides 30x optical zoom ideal for detailed inspections. Utilizing these higher end cameras will limit your flying time to 17 min for combining the Z30 + X5S configuration.
DJI touts several other applications with this drone line such as for search and rescue. The M200's equipped with both an aerial zoom and thermal camera will allow first responders to locate missing people in remote areas and plan the safest approach path. The Z30 camera in the M210 version due to its vertical gimbal is the best fit for this application. Firefighters can utilize this drone for surveying forest fires by utilizing the M210 + Z30 + XT configuration. Offshore rig inspections can take place with the millimeter precision of the M210 RTK + X4S configuration. Agriculture can be improved by combining visuals and multispectral cameras for quicker crop scouting.

Commercial applications of drones are here to stay and with the new M200 line, DJI is providing some exciting features and capabilities for professionals utilizing drone technology.
You will be able to purchase these drones during Q2 at a price yet to be defined.