UAV Commercial Usage by the Numbers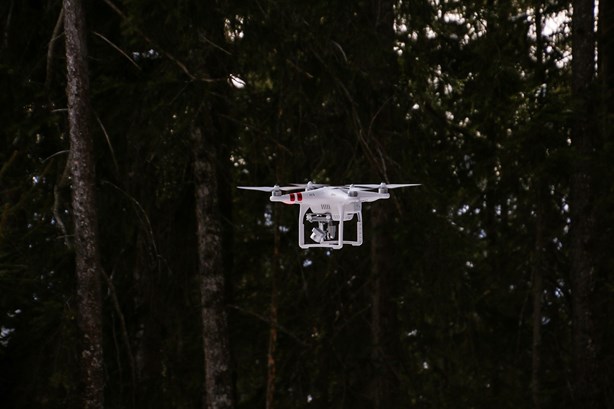 If you thought drones where just toys, think again. The drone industry has been rapidly growing over the years and is expected to reach $127 Billion in 2020 (forecasted by PwC). Commercially there are various ways drones are being used and thanks to the registration and exemption requirements the government has publicly available data from which we can get information into how UAV's are being used.
By law, any aircraft operation in the national airspace requires a certificated aircraft, licensed pilot and operational approval as defined by Section 333 of the FAA Modernization and Reform Act of 2012. If companies want to utilize UAV's to support their business, they must obtain an exemption by the FAA that allows them to circumvent the various requirements established by the FAA. The Association for Unmanned Vehicle Systems International (AUVSI) has provided a report in which they have analyzed up to 2016 the first 5000 exemptions for UAV operation.
Three states lead the pack into how many exemptions have been submitted: California, Florida and Texas with 639, 571 and 468 exemptions respectively. Following the big three are the rest with much smaller exemption count starting with New York at 187.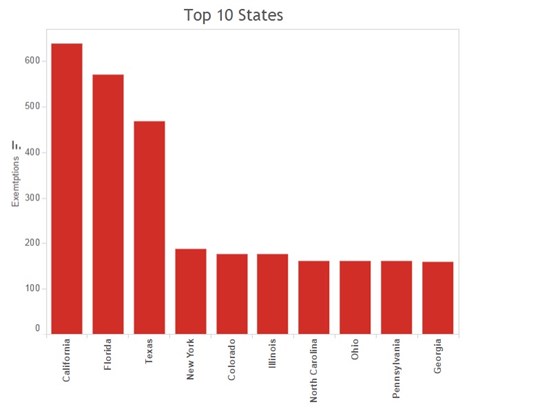 Which Industries are using UAV's
The data shows more than 25 major industries are utilizing drones in their businesses, the number one application, you guessed it, aerial photography. Aerial photography is a broad term which applications can span many industries. In second place you have Real Estate. Most of the usage of UAV's in real estate is for taking videos and pictures of the properties and its surroundings but this will grow into many adjacent industries that support real state such as appraisals, roof inspection and insurance.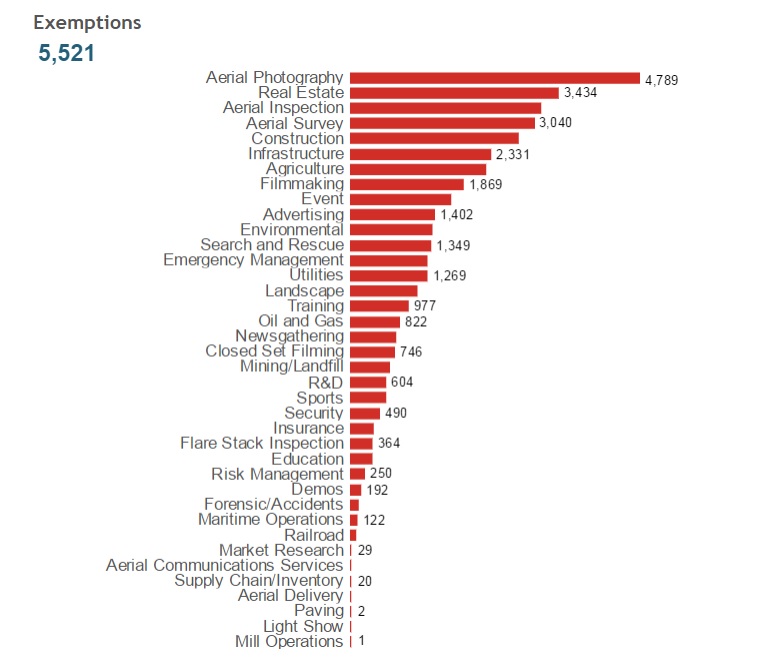 The next three are Aerial Inspection/Survey, Construction and Agriculture. In construction UAV's are used in various phases of their projects beginning with project planning and design in which drones can reduce the cost and improve the quality of the current maps used for the project sites. For safety, building contractors can utilize them to inspect the work being done on difficulty to reach areas such as roofs and other vertical places. This ability to quickly view various site areas will bring increases efficiency for the contractors and improve their planning. In the future, UAV's would be possibly able to carry tools and equipment among various locations.
For agriculture, UAV's provide them with digital data to manage their fields or monitor their livestock. Drones are safer and less expensive than manned aircraft which have been primarily used for this purpose. Some drones are being tested to precisely provide the pesticide needed to the fields.
Many other applications of drones are recently being discovered or developed. If you keep up with the news, drone delivery is bound to make it in there. Still some years away, drone delivery and other applications that will change the way we live will most certainly appear.
Manufacturers
DJI is the leading manufacturer of drones being utilized today thanks to the huge popularity of its Phantom line which occupies the top spot in the models being applied for the exemptions. 3D Robotics and SenseFly take the second and third spot respectively. Rotary wing UAV's such as the popular quad-copters take the first spot in the airframe type of UAV's being used today. Fixed wing comes at a distant second place.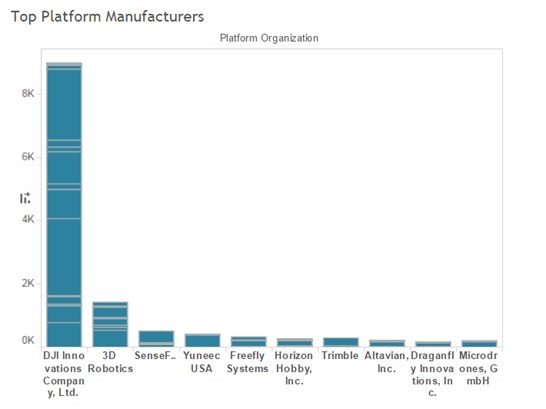 The UAV industry is starting to grow and will grow quickly as forecasted by various organizations. It needs the appropriate legislation and incentives for the industry to mature and be able to provide much benefits to our society. Hope this piece provides you with much needed information into how this technology is being currently used an open our eyes to the possibilities ahead.